My gourmet hotel at the lake
Here, I can pamper myself
Why exactly Eppan at the South Tyrolean Wine Street? Why exactly the Seehotel Sparer at the Monticolo Lake? Well, because I simply love the natural cuisine with the slow-food motto "kilometer 0"! Here, you can taste South Tyrolean specialties, Mediterranean delicacies, and fresh herbs from our own garden. Here, pizza and pasta meet Kaiserschmarren and Strudel, savory dumplings, and light fish dishes. Those who have once tried this cuisine will never forget it. And the Seehotel neither because it unites these contrasts in a skillful and sustainable way. Here, only dishes made of natural and regional products are served, which are created with many fresh and creative ideas. And when, while enjoying them, I can look at the picturesque scenery, yes, then I am truly happy.
The gourmet board by Seehotel Sparer
A portion of nature, please!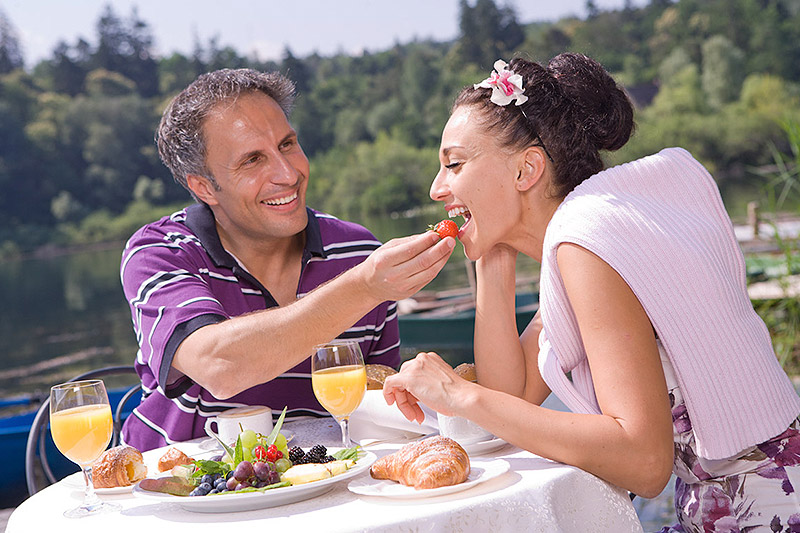 …a special balance breakfast from the buffet: different types of bread from local bakeries, very delicious pastries and croissants, fruity jams, and honey from Montiggl, South Tyrolean farmer's milk and yogurt (also lactose-free), oat and rice milk, an organic and vitamin area with muesli, fresh fruits, freshly made egg dishes, smoothies, and porridge, cheese and cold cuts, Italian coffee and different types of tea. And on Sunday, we also serve a glass of sparkling wine with home-smoked salmon. Hmmm, so yummy!
Pssst, a small piece of advice: I can also give this delicious (and healthy) breakfast as a voucher to a beloved person. Because luck is the only thing that doubles when you divide it!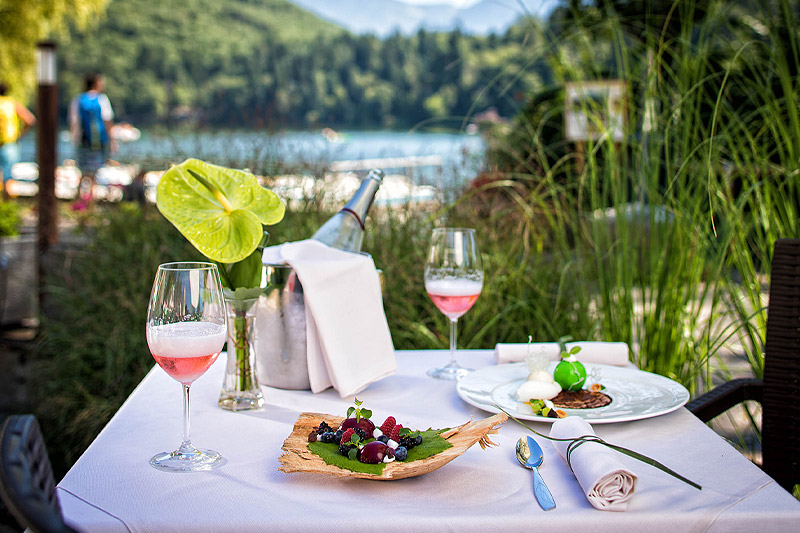 …delicious and organic fruit infusions and herbal teas from "monthea", our trusted tea supplier, which gets its herbs only from small South Tyrolean farmers.  But also, coffee lovers will find what they are looking for at Seehotel Sparer: With the coffee classics and new coffee specialties from the roastery Meindl, I can enjoy my very personal coffee moments at the lake. Life is simply beautiful!
NEW: every day from 1 to 2 p.m., we serve a light lunch for the small appetite. If you are very hungry (because you did some sports), you can also enjoy a lunch à la carte or a piece of cake or ice cream in the romantic garden café in the afternoon. Of course, you can do that also on the private lake access – simply beautiful!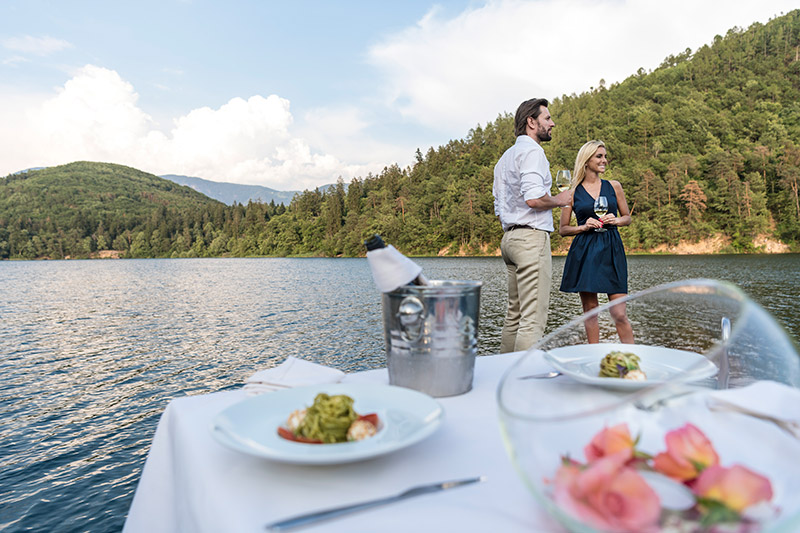 …a varied 5-7-course-menu with salad buffet and different delicacies which are a pleasure for the body and the soul. Of course, we also prepare something tasty for vegetarians and vegans, figure-conscious people, and those with lactose or gluten intolerances! Here, I can simply tell the kitchen staff what I want and need and get my individual comfort food. And what I am particularly looking forward to are the different theme evenings in front of a spectacular lake scenery. Wow, I'm already hungry!
Pssst, a small piece of advice: Who wants to surprise their partner with something very romantic should book an unforgettable dinner at the lake!